We're excited to announce #ShelterInPlate, a two-sentence weekly writing contest hosted on Twitter at @The_BrokenPlate, from March 30, 2020 to May 1, 2020. On Mondays we provide a prompt, and using the prompt you write two sentences, with #ShelterInPlate.
___
Winner for April 3, 2020 goes to Valerie Weingart!
"A child's voice blossoms outside of my closed apartment door: "FLOWERS––yellow, and orange, and purple…" Enjoy the wreath, little one––the small promise of springtime just within your reach––and do stop back tomorrow."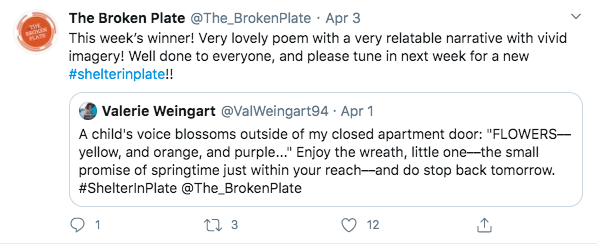 ___
Winner for April 10, 2020 goes to Suban Nur Cooley! 
"The email simply said "FYI" at the top with a link to a book: "Difficult Women: A History of Feminism in 11 Fights." I know he's feeding stray cats his leftover fish at his hotel in Mogadishu while he hits send. Thanks, dad"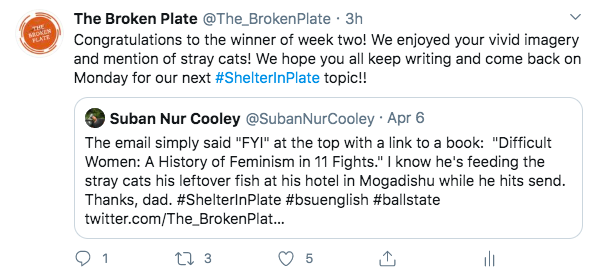 ___
Winner for April 17, 2020 goes to Mia Marrero! 
"When I sleep, I dream I'm sipping sickly sweet frozen coffee next to my best friend, lifting my face to the Arizona sun and letting its golden rays dance on my skin. I wake up to my brother on Skype, tell him to order a large mocha, and that I'll be there soon."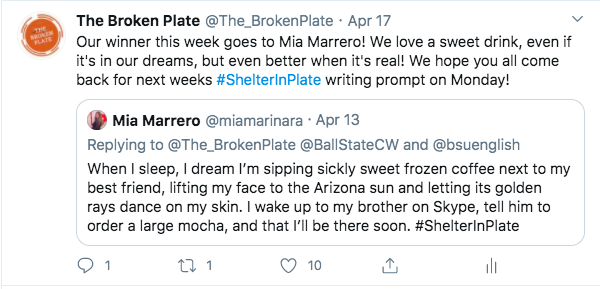 ___
Winner for April 24, 2020 goes to Allison Hitt!
"I pushed down the side rails of the bed & curved my body around hers, whispering our favorite memories into her nightgown. Later, I grabbed the lipstick from the nightstand & painted her lips a shimmery pink, admiring the woman I couldn't imagine living without."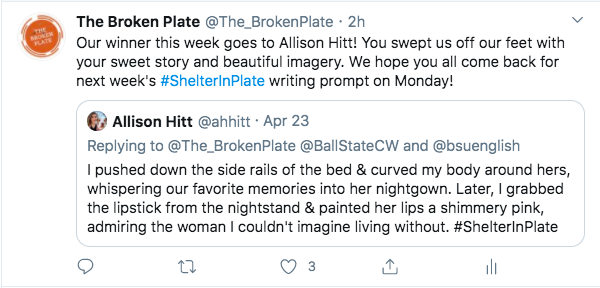 ___
Winner for May 1, 2020 goes to Braché James!
"Worry not when your dreams shed and bloom beyond the darkness of your resting eyes. The light is coming to give back everything the darkness stole"