The annual In Print Festival of First Books includes readings, discussions, and classroom visits with authors who have recently published their first books. The two-day event typically features three emerging authors and an editor or publisher.
The In Print Festival also marks the release of The Broken Plate, which features pieces by the guest authors as well as interviews with them conducted by The Broken Plate staff.
In Print 2020: Cancelled 
The In Print Festival Reading will be held in AJ 175 at Ball State University. We are excited to showcase these talented writers this year:
Jake Skeets is Black Streak Wood, born for Water's Edge. He is Diné from Vanderwagen, New Mexico. He is the author of Eyes Bottle Dark with a Mouthful of Flowers, a National Poetry Series-winning collection of poems. He holds an MFA in poetry from the Institute of American Indian Arts. Skeets is a winner of the 2018 Discovery/Boston Review Poetry Contest and has been nominated for a Pushcart Prize. Skeets edits an online publication called Cloudthroat and organizes a poetry salon and reading series called Pollentongue, based in the Southwest. He is a member of Saad Bee Hózhǫ́: A Diné Writers' Collective and currently teaches at Diné College in Tsaile, Arizona.
Hadley Moore's fiction has appeared in McSweeney's Quarterly Concern, Witness, Amazon's Day One, the Alaska Quarterly Review, the revived december, the Indiana Review, Anomaly, Quarter After Eight, Confrontation, The Drum, Midwestern Gothic, and elsewhere. She is an alumna of the MFA Program for Writers at Warren Wilson College and lives near Kalamazoo, Michigan.
Noam Dorr's work has appeared in Gulf Coast, Seneca Review, Passages North, and other places. His essay, "Love Drones," won the Gulf Coast Essay Prize and was a notable essay in the Best American Essays 2016. Born and raised in Kibbutz Givat Haim, Israel, he is a former Fulbright scholar, and received his MFA in Creative Writing from the University of Arizona. Dorr is currently a doctoral candidate in the Literature and Creative Writing Ph.D. program at the University of Utah and the nonfiction editor at Quarterly West.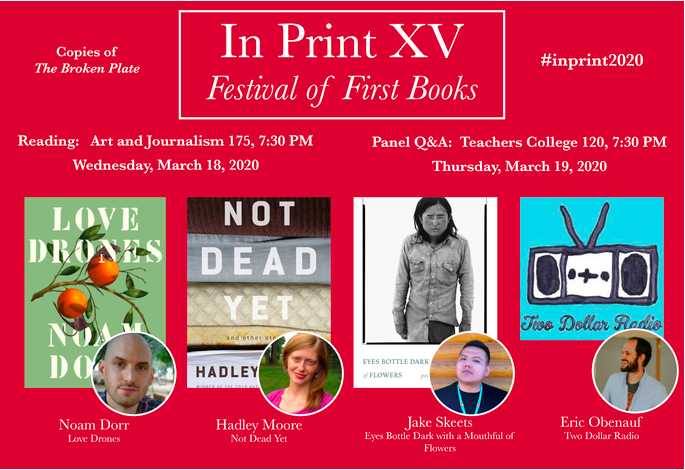 Check out the Spring 2020 issue of The Broken Plate to see excerpts from their work.
_______
In Print 2019 featured poet Chen Chen, nonfiction writer Dustin Parsons, fiction writer Maria Romasco Moore, and author and editor Allison Joseph.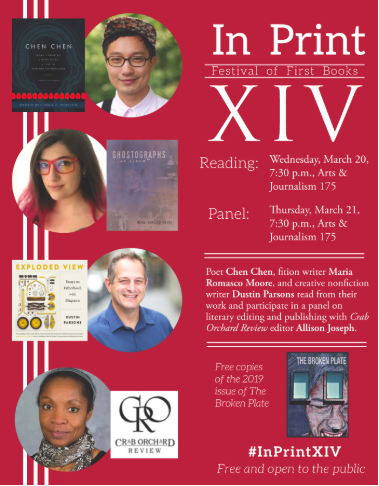 In Print 2018 featured poet Carolina Ebeid, nonfiction writer Jan Shoemaker, fiction writer Nick White, and editor Kristen Elias Rowley.
In Print 2017 featured poet Iliana Rocha, fiction writer Sequoia Nagamatsu, nonfiction writer Daniel Raeburn, and author and editor Mary Biddinger.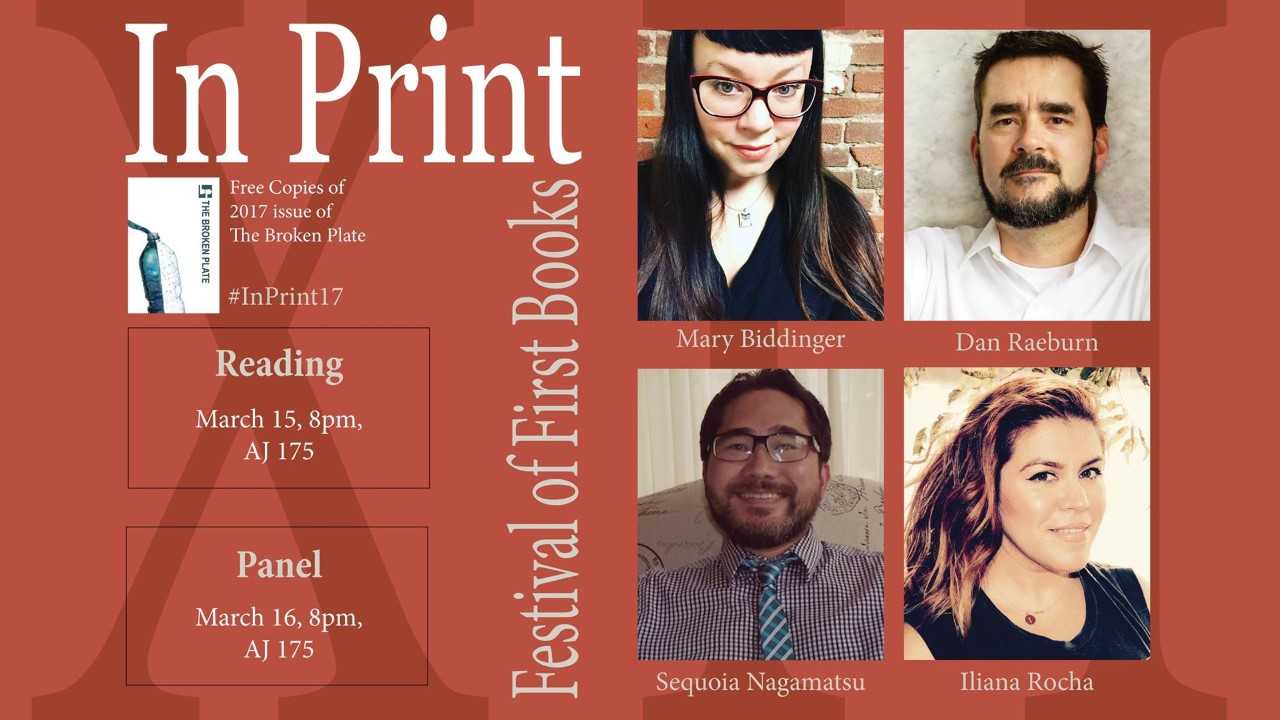 In Print 2016 featured fiction writer Gabriel Urza, nonfiction writer Sarah Einstein, poet Sarah Blake, and editor Keith Tuma.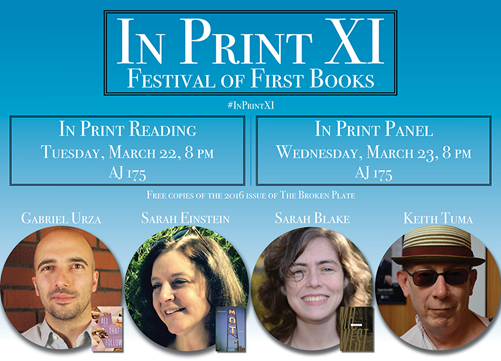 In Print 2015 consisted of author Celeste Ng, editor-in-chief Tyler Gobble, essayist Kerry Howley, and editor Jodee Stanley.