The annual In Print Festival of First Books includes readings, discussions, and classroom visits with authors who have recently published their first books. The two-day event typically features three emerging authors and an editor or publisher.
The In Print Festival also marks the release of The Broken Plate, which features pieces by the guest authors as well as interviews with them conducted by The Broken Plate staff.
In Print 2017
The 2017 In Print Festival runs March 15-16, and a beautiful composition of authors and editors will be gracing us this year.  · Poet Iliana Rocha, whose collection Karankawa, (Pitt Poetry Series, 2015) won the 2014 AWP Donald Hall Prize for Poetry. · Sequoia Nagamatsu, the fiction writer behind Where We Go When All We Were is Gone, (Black Lawrence Press, 2016). · Daniel Raeburn, a non-fiction writer with his memoir Vessels, (Norton, 2016). · And author and editor Mary Biddinger, who has had six poetry collections published, including The Czar (Black Lawrence Press, 2016).
In Print 2016 featured fiction writer Gabriel Urza, nonfiction writer Sarah Einstein, poet Sarah Blake, and editor Keith Tuma.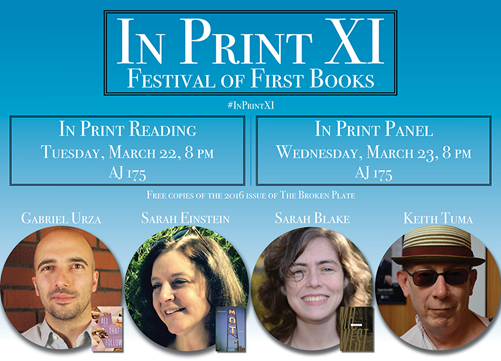 In Print 2015 consisted of author Celeste Ng, editor-in-chief Tyler Gobble, essayist Kerry Howley, and editor Jodee Stanley.