The annual In Print Festival of First Books includes readings, discussions, and classroom visits with authors who have recently published their first books. The two-day event typically features three emerging authors and an editor or publisher.
The In Print Festival also marks the release of The Broken Plate, which features pieces by the guest authors as well as interviews with them conducted by The Broken Plate staff.
In Print 2019
The In Print Reading will be on March 20th, with a panel discussion on the 21st. Both events will take place at 7:30 pm in AJ 175. We are thrilled to welcome an incredibly talented group of participants this year:
Chen Chen is the author of When I Grow Up I Want to Be a List of Further Possibilities (BOA Editions, 2017), which was longlisted for the National Book Award and won the Thom Gunn Award, among other honors. The recipient of fellowships from Kundiman and the National Endowment for the Arts, Chen's work appears in many publications, including Poem-a-Day, The Best American Poetry, and The Best American Nonrequired Reading. He holds an MFA from Syracuse University and a PhD from Texas Tech University. Currently he teaches at Brandeis University as the Jacob Ziskind Poet-in-Residence. With his best friend, Sam Herschel Wein, he co-runs the journal, Underblong. 
Dustin Parsons is the author of Exploded View: Essays on Fatherhood, with Diagrams (University of Georgia Press 2018). He has an MA from Kansas State University and an MFA from Bowling Green State University. He has previously served as the non-fiction editor of The Mid-American Review. Awards for his writing include an Ohio Arts Grant and a New York Fine Arts grant in creative non-fiction, the 2013 American Literary Review Prize in fiction, the 2014 fiction prize from The Laurel Review and a "notable" in the 2014 Best American Essays. He was awarded a residency fellowship at Wyoming's Brush Creek Foundation of the Arts. He teaches creative writing workshops and courses in American literature at University of Mississippi.
Maria Romasco Moore is the author of Ghostographs, an interconnected collection of flash fiction inspired by vintage photographs. Her first novel, Some Kind of Animal, will be out in 2020. Her stories have appeared or are forthcoming in DIAGRAM, Hobart, Interfictions, Kaleidotrope, Lightspeed, and the anthology Women Destroy Science Fiction. She is a graduate of the Clarion West Writer's Workshop and has an MFA from Southern Illinois University. She is an instructor at Columbus College of Art and Design.
Allison Joseph is the author of several poetry collections, including Confessions of a Barefaced Woman (Red Hen Press, 2018); Worldly Pleasures (Word Press, 2004); and What Keeps Us Here (Ampersand, 1992), winner of the John C. Zacharis First Book Award. She teaches at Southern Illinois University–Carbondale, where she also serves as the editor-in-chief and poetry editor of Crab Orchard Review.
Check out the Spring 2019 issue of The Broken Plate to read interviews with Dustin Parsons and Maria Romasco Moore and to see excerpts from their work. We also have interviews with Allison Joseph and Chen Chen on our website!
_______
In Print 2018 featured poet Carolina Ebeid, nonfiction writer Jan Shoemaker, fiction writer Nick White, and editor Kristen Elias Rowley.
In Print 2017 featured poet Iliana Rocha, fiction writer Sequoia Nagamatsu, nonfiction writer Daniel Raeburn, and author and editor Mary Biddinger.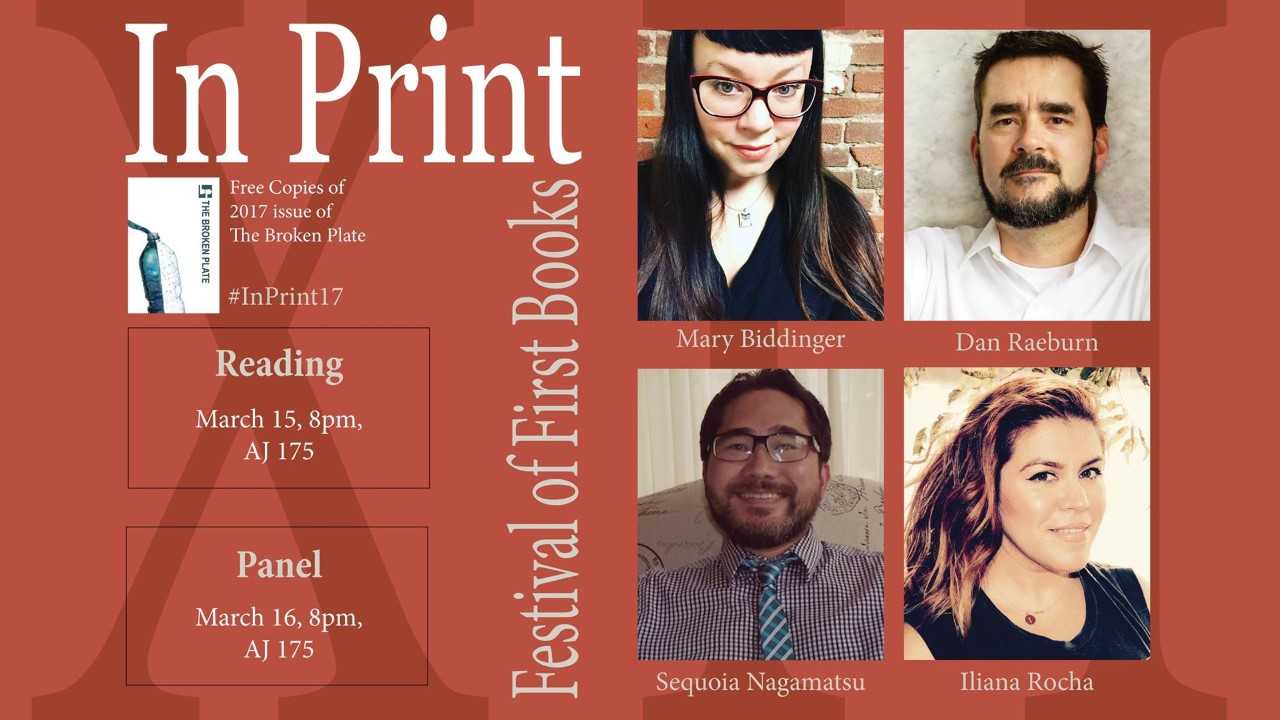 In Print 2016 featured fiction writer Gabriel Urza, nonfiction writer Sarah Einstein, poet Sarah Blake, and editor Keith Tuma.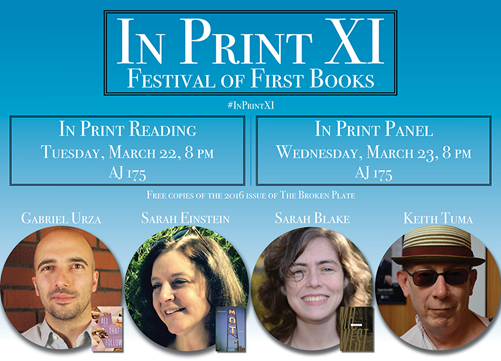 In Print 2015 consisted of author Celeste Ng, editor-in-chief Tyler Gobble, essayist Kerry Howley, and editor Jodee Stanley.